Guided and Non-guided Fishing Charters
Trolling, jigging, popping, fly, deep water, blue water, river and estuary fishing. 
Our dedicated fishing charters run in the months of April, May, August and September. Whether you join us for a non-guided Blue Water or Guided Black Bass fishing trip; our specialist crew will take you to beautiful untouched fishing grounds, where you will experience fishing on another level.
Get a group of family, friends or corporate colleagues together for a fishing charters of a lifetime .
Our guided Black Bass trips explore the river systems of New Britain and Oro Provinces for the prized Black Bass and Spot-Tail Bass, along with a variety of other species including Trevally, Grouper and Bream.
On our non-guided Blue Water trips, we will venture out into the blue water and around the undersea coral mounts; likely catches include: Dogtooth Tuna, Yellow-Fin Tuna, Spanish Mackerel, Wahoo and Trevally.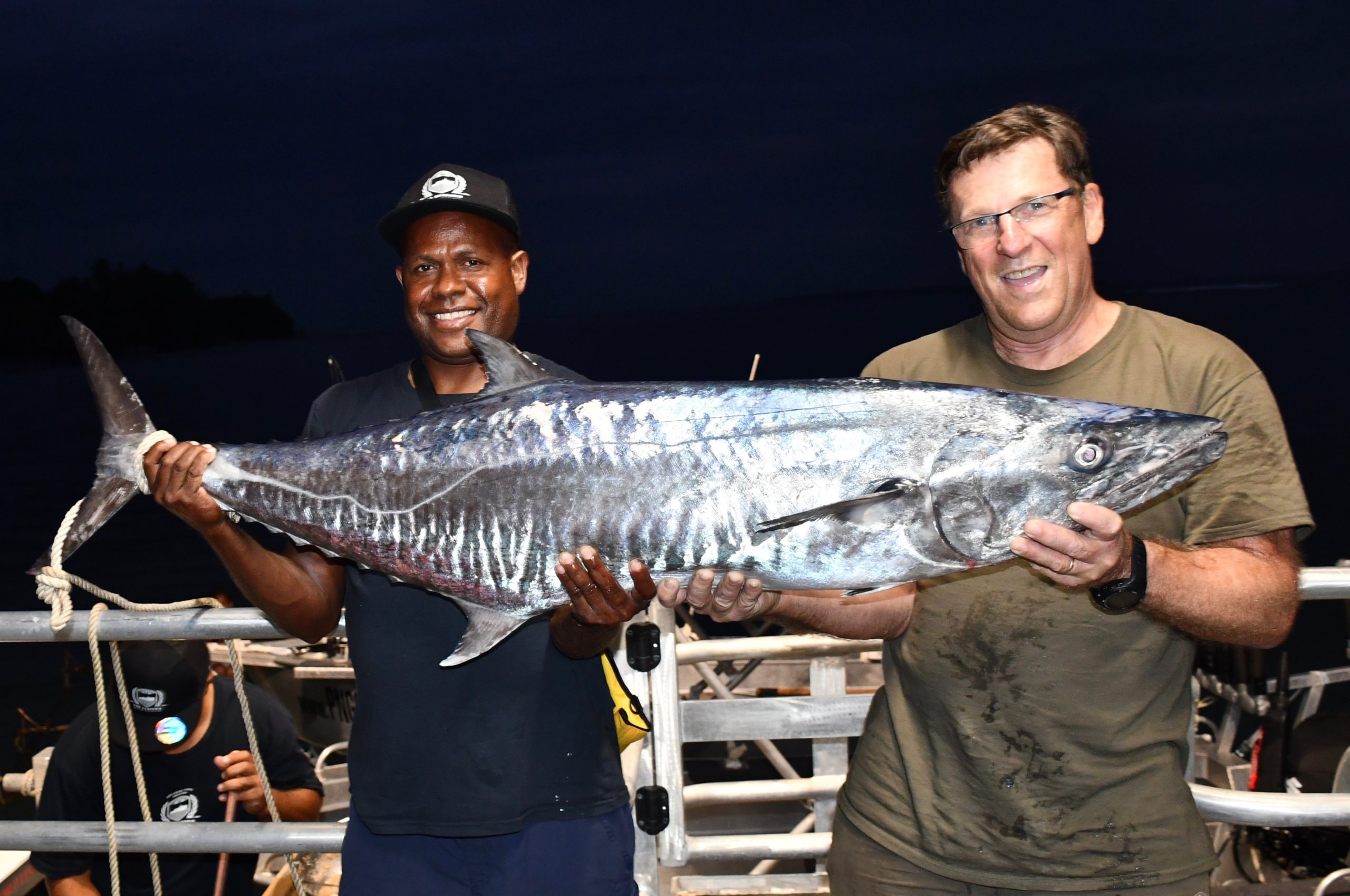 Blue Water Fishing Adventures
Blue Water fishing charters may vary in duration, depending on pick up/ drop off location, plus your desired fishing grounds. Below is a summary of a 10 Day Blue Water Fishing Charter.
10 Day – Blue Water Fishing Adventure
10 days/ 9 nights onboard the mighty PNG Explorer; includes transfers to and from Kavieng airport. 
Meals
Your charter includes all meals and snacks whilst onboard – all prepared by our professional chef. Tea and coffee facilities, plus fresh filtered drinking water.
Amenities and extras
Clean toilets, hot showers, plus an air conditioned lounge and sleeping areas. House keeping and laundry service. Clean towels and fresh linen. Free use of snorkelling and fishing gear plus SUP and kayaks.
Beverages
Choose from beer, wine, soft drinks, and more.
Photo Packages
A professional photographer is available to capture your best waves and trip experiences.
WiFi, VoIP and satellite Phone
Keeping in touch with loved ones at home has never been easier. Price based on usage.
Diving
Take a break from surfing and head for a dive. Explore the coral reefs and pristine ocean with our onboard Dive Masters.
PNG Surfaris Merchandise
PNG Surfaris t-shirts, hats and hoodies, plus other merchandise to take home as a souvenir from your trip.
Guided Black Bass Fishing Adventures
Our guided Black Bass charters are facilitated by Andrew Orley, owner/ operator of Fishing International Network (FIN). AO or Big Red as Andrew is known is one of Australia's most experienced and highly regarded fishing guides. When you book a guided Black Bass Fishing Trip on PNG Explorer, AO will be your lead guide. These charters are by appointment only. Please contact FIN for more details and availability.
Ready for your next adventure?
Don't be left wondering why you're still sitting around at home.
Get your mates together or jump in solo and book your next adventure today.